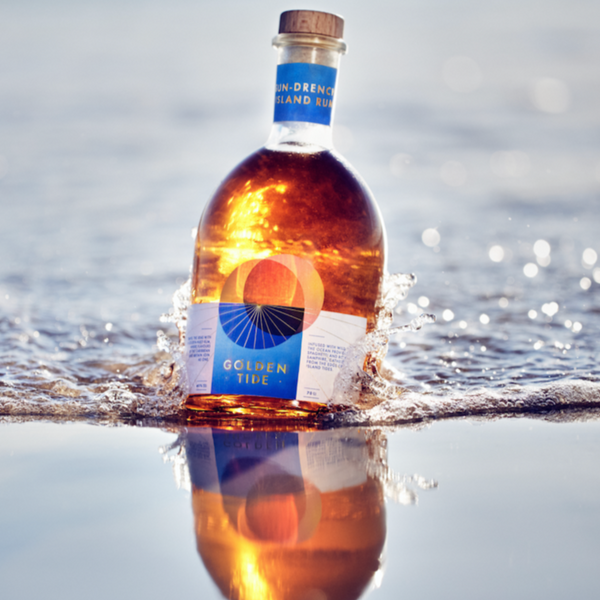 Created exclusively for P&O Cruises, Golden Tide is an invitation to savour the essence of a golden-aged spiced rum, infused with coastal botanicals foraged from sea and shore – including Sea Spaghetti and Rock Samphire.
This unique blend will be distilled on board Arvia while she sails in the Caribbean – and we've recreated this unique recipe on land. 
Enjoy this unique spiced rum with a light ginger ale and a slice of orange or simply on the rocks.
70cl 40%
'Jersey-based producer Tidal Rum is seeking to innovate while showing respect to the base rum. It has no sugar and no added flavours. It's about as far away from a spiced rum as it's possible to get'
Drinks International
'Rum, I mean if you're going to do it, do it right! I'm using Tidal Rum which has an amazing flavour. It's from the island of Jersey where they've incorporated seaweed into the mix - it sounds extraordinary, it tastes incredible!'
Olly Smith for The Daily Mail
'Within the crescendo of Tidal Rum's aftertaste, when the bitter orange note fades, comes truffle-like notes from the fabled seaweed. The result appeals as much to a newcomer to rum as a connoisseur of the sugar spirit.'
Douglas Blyde , The Evening Standard Magazine
The Evening Standard Magazine
'A golden gem from Jersey. Think smoked salted caramel. Lush!'
Olly Smith for The Daily Mail
'Had my face pressed up against the window much like a pug puppy waiting for my second bottle.'
Anonymous
'I have to say, this is absolutely awesome!'
Alan