THE TIDAL RUM STORY
Our story begins by the sea. It's where we both grew up - Harry in Scotland by St. Cyrus beach  and Ben on the island of Jersey. We both have early memories of coastal adventures with our friends, exploring the tidal edge and racing the waves to discover secret islands and sandbanks, only revealed at low tide. That sense of adventure and freedom that the sea awakens in all of us is something we wanted to capture in the subtle coastal flavours of Tidal Rum.

We share a mission to celebrate and elevate rum. To us, rum has always been misunderstood - stuck in a time warp somewhere between grog and garish tiki cocktails. There's an uncharted territory of this beautifully complex spirit to explore and discover, and we wanted to bring that back, and create a rum that is in itself an occasion. The first drink of the night, not the last.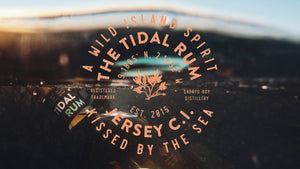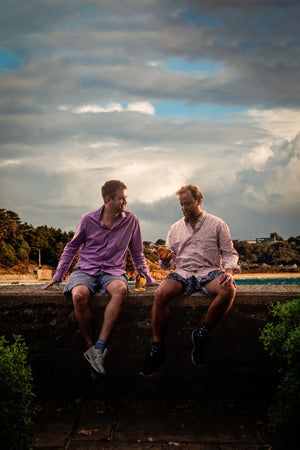 Our mission to refine and redefine the spirit takes shape in Tidal Rum. a coastal craft rum,  infused with the subtle truffle flavour of Jersey's Pepper Dulse, a rare sea botanical that can only be gathered at the furthest reaches of a full moon tide. It's a journey that begins in the Caribbean and finishes in Jersey, a spirit kissed by the tide that calls to the adventure in us all.
Ben and Harry, Tidal Rum founders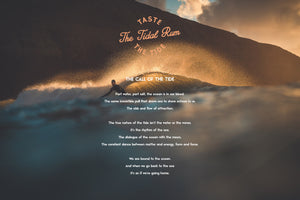 A crafted rum that holds a mystery within its golden smoothness, captured in a bottle smoothed and shaped by the sea. Distilled in the Caribbean, slowly refined and infused with a taste of the wild tide.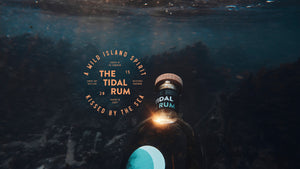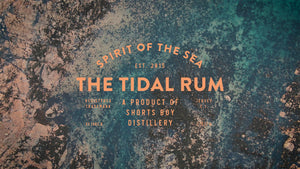 Kazz, our resident Jersey forager introduced us to Pepper Dulse, Tidal Rum's sea botanical. Foraging with him in Jersey's massive intertidal range is great fun, and we wanted to share that moment of discovery and intense flavour in our Tidal Rum.
We sustainably harvest all our Pepper Dulse in season, trimming rather than picking, to allow the plant to regenerate. Our ethos is to create and maintain an ocean environment in which dulse can flourish in clean water and optimum conditions.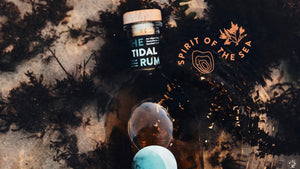 THE CALL OF THE TIDE
Part water, part salt, the ocean is in our blood. The same irresistible pull that draws sea to shore echoes in us.
The ebb and flow of attraction. The true nature of the tide isn't the water or the waves. It's the rhythm of the sea.
The dialogue of the ocean with the moon, The constant dance between matter and energy, form and force.
We are bound to the ocean. And when we go back to the sea It's as if we're going home.